Never put off needed tree care services in Clearwater! Proper pruning and trimming helps to keep mature trees healthy and protect a property from damages caused by overgrown or falling branches. Trimming also means more sunlight and fresh air circulation around the tree, for better overall tree health.
If you can't remember the last time you scheduled tree services in Clearwater, check out a few tips about when it's time to call an arborist and tree trimming contractor. This information will ensure trees you want to keep stay healthy and that your property is always safe and looking its best.
You Need Tree Care in Clearwater for Trees You Want to Keep
Most people know that houseplants need more than just sunlight and water; they also need trimming, fertilizer or feed, cleaning to remove dust and insect larva, leaf pinching, and the like. Without this specialized care, even the hardiest houseplant can wither and die eventually.
In the same way, it's vital you schedule tree care in Clearwater for trees you want to keep. A tree services contractor can remove overgrown branches, alleviating weight on the tree and helping to preserve its energy. Trimming back branches also allows for added sunlight and fresh air around the tree trunk, keeping it healthy.
Regular tree services also typically include an inspection of the tree for signs of infestation, damage, decay, rot, and disease. Addressing these issues quickly will also help ensure the tree stays healthy over the years.
Schedule Clearwater Tree Care for Dying or Dead Trees
If you suspect a tree on your property is damaged, decaying, or outright dying, it's vital that you schedule Clearwater tree care as quickly as possible. Some damaged or decaying trees can be salvaged; bracing and cabling, for example, alleviates weight while bruised branches heel.
Different chemical treatments can also address infestation or disease, so a tree grows strong and healthy again. A tree care expert might also suggest removing infested branches or damaged areas of the tree, to preserve the tree's energy and allow it to grow strong again.
Unfortunately, dead trees cannot be salvaged and should be removed, to avoid the risk of the tree toppling or losing branches. If you're not sure how to determine a tree's condition, call a tree care company so they can inspect the tree and note if it's salvageable or beyond repair.
Clearwater Tree Trimming Removes Overgrown, Dangerous Branches
Tree branches hanging over a home can scrape on roof shingles and tiles, causing damage while also dropping sap, moss, twigs, leaves, and other debris into a home's gutters. Branches growing too close to overhead lines and cables can also snap them at any time.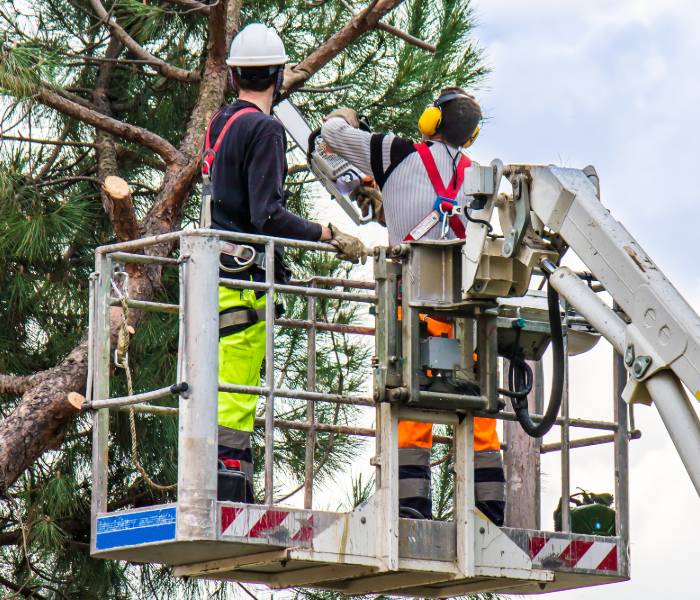 Branches hanging over fences, pools, your favorite parking spot, and other such property below can also mean costly damage if they snap and fall. Those branches can also drop lots of debris onto your vehicle or in the pool, clogging its filter.
Trimming and pruning those branches regularly reduces the risk of property damage without having to remove the tree altogether. Your cost for professional pruning and trimming is typically far less than the cost of property damage repairs caused by those branches, and also means not having to worry about a sudden blackout because a branch snapped a power line, or having to miss work because a branch landed on your car overnight!
Schedule Tree Care in Clearwater for New or Struggling Trees
After having new trees planted on your property, it's vital that you schedule regular tree care services. New trees need to take root properly and might need added fertilizer or other treatments to help recover from being uprooted and relocated.
Tree care can also help struggling trees on your property. If you notice that a tree doesn't seem to grow as tall as it should, always has dead or undersized leaves, or is leaning in one direction or another, schedule an inspection and needed services. Your tree might simply need some chemical treatment, added watering, or another solution to ensure it stays healthy and thriving over the years.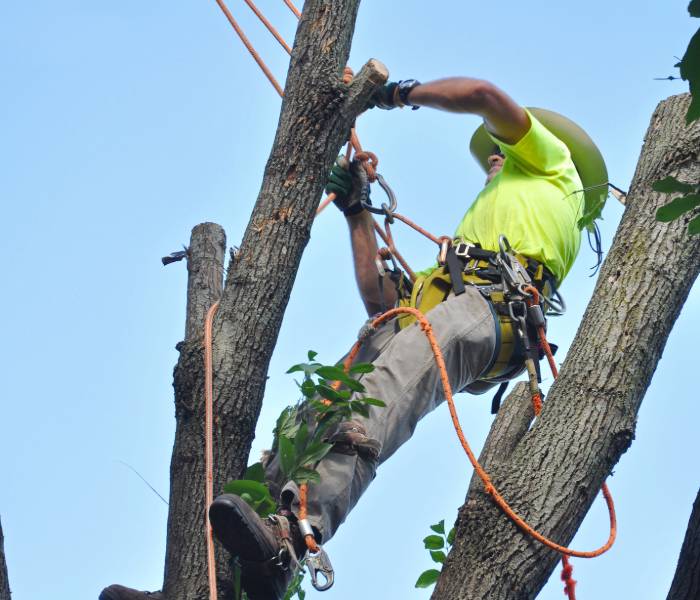 Clearwater Tree Removal Services is happy to provide this information about tree care in Clearwater to our readers and we sure do hope that you found it helpful. If you need tree trimming, pruning, full-scale removal, or stump grinding, turn to our expert Clearwater tree care contractors. We offer FREE quotes and customized services to fit every property. For more information or to get started with the expert tree services you need, call us today.